By: Jacob W. Peterson
CSNTM rarely revisits a location where it has already digitized, but sometimes previously unforeseen factors make it an easy decision. Back in 2010, CSNTM traveled the whole fifteen miles down highway 75 in Dallas to the Bridwell Library on the campus of Southern Methodist University to digitize one of its manuscripts—Papyrus 26 from the early 7th century. This fragmentary manuscript contains portions of Romans 1.1–16. In fact, it is one of only three papyri with this text. Back in 2010, we imaged the manuscript using our typical high-resolution color images and also used handheld black lights to try and illuminate some of the difficult-to-read portions of the text. This worked pretty well, but you can see in the images that more could probably be done.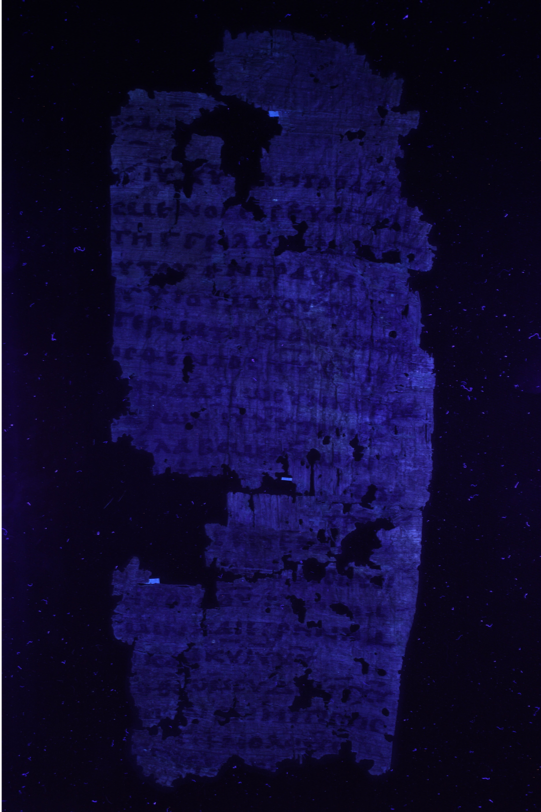 Well, as you have all read by now, CSNTM acquired multispectral imaging (MSI) last year, so it seemed appropriate to reach out to SMU about re-digitizing the papyrus. Multispectral imaging is especially useful for recovering difficult-to-read, covered, erased, or damaged text that is so common to antiquities. Without having completed any post-processing yet, we have already seen positive results in the initial images.
In addition, SMU has officially gained possession of another manuscript, GA Lect 1547, which had been on loan to them for many years. This lectionary dates to the 13th century and has not been previously microfilmed or digitized. This manuscript has a fascinating modern ownership history, beginning with the biblical scholar J. Rendel Harris in the UK, before going through a Chicago bookstore, being bequeathed to Baylor University Medical Center, and finally acquired by SMU. You can still see traces of several of these owners in the beginning flyleaves, which are full of ownership stamps, purchasers' codes, notes between text-critics, and more.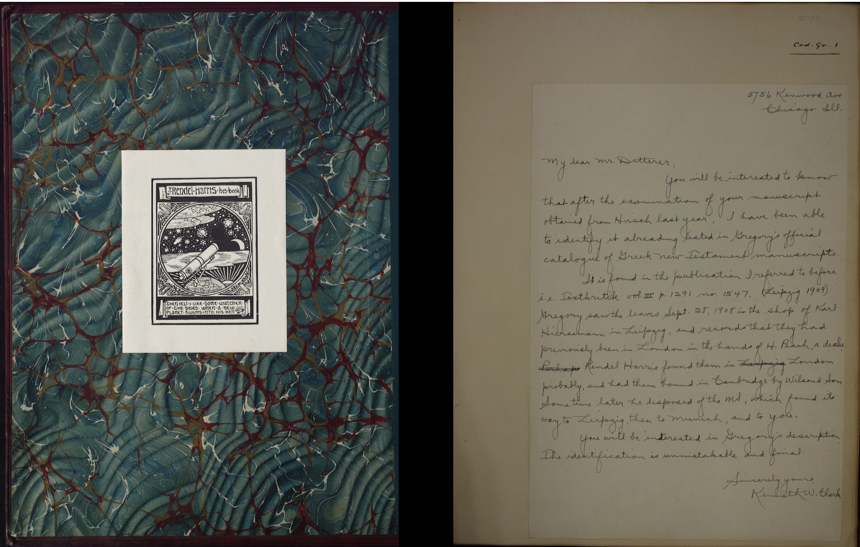 The proximity of CSNTM and SMU, the potential to see new things in the papyrus, and the opportunity to digitize a new manuscript made this an obvious project for our team. Thankfully, the staff at Bridwell Library Special Collections kindly agreed to allow us to visit them again to digitize their lectionary and utilize MSI on the papyrus. We would especially like to thank Daniel Slive and Rebecca Howdeshell, who worked with us in both the planning and execution of this project.
The images from this expedition will be available in our library soon, and the MSI images of P26 will be available after post-production is complete. We can now say that every manuscript in Dallas-Fort Worth has been digitized, and as a glimpse of the future, every manuscript in Texas will soon be digitized and made available online.