By Andrew K. Bobo and Andrew J. Patton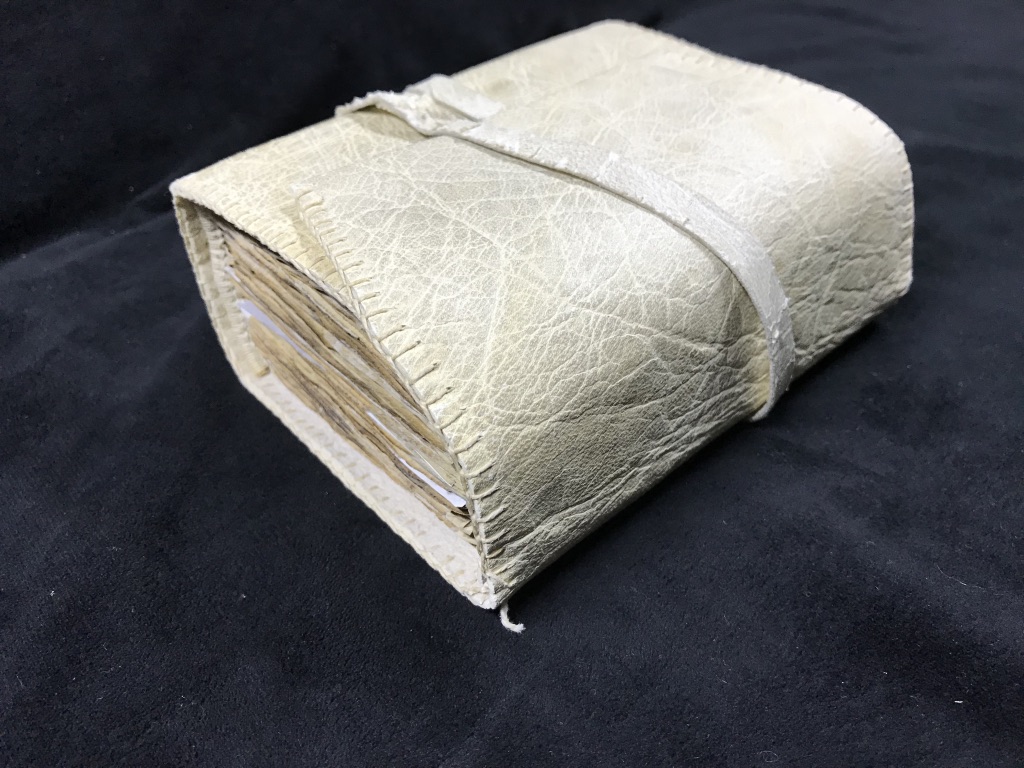 Gregory-Aland 804 (a.k.a. Parliament Library 2) at the Library of the Hellenic Parliament in Athens, Greece
The Center for the Study of New Testament Manuscripts (CSNTM) Digital Library contains hundreds of Greek NT manuscripts, each with its own story to tell. In our "From the Library" series, we feature individual manuscripts from our collection in order to showcase their unique beauty and importance. This is part of CSNTM's mission to make NT manuscripts accessible for everyone.
The manuscript featured in this article is Gregory-Aland 804, a Gospels manuscript from the 11th century. The manuscript originally contained all four Gospels, but it is now missing the last third of the Gospel of John. We digitized GA 804 at the Library of the Hellenic Parliament during our expedition in January. As we study a manuscript, its physical features offer clues about the people who produced and used this particular copy of the New Testament. GA 804's unique physical features help us draw conclusions about how it may have been used.
Travelers Edition
Modern publishers design Bibles in a variety of formats and features to accommodate the people who will read a particular copy of the Scriptures. Some have extra room for note-taking, others are pocket-sized, and others include comments and symbols to guide interpretation. Each is produced for a particular kind of reader. This is not new. Throughout the history of the Bible, scribes and copyists devised a variety of different formats depending upon the intended use.
Let's consider the size. GA 804 is noticeably small—hardly larger than an average iPhone—and only 5.4cm deep. The scribe copied the text of all four Gospels in minute script so that it would fit the tiny proportions of this codex. You get a sense of how small this manuscript is when it's compared to others. Below is a to-scale comparison of GA804 and the largest lectionary in the Hellenic Parliament's collection.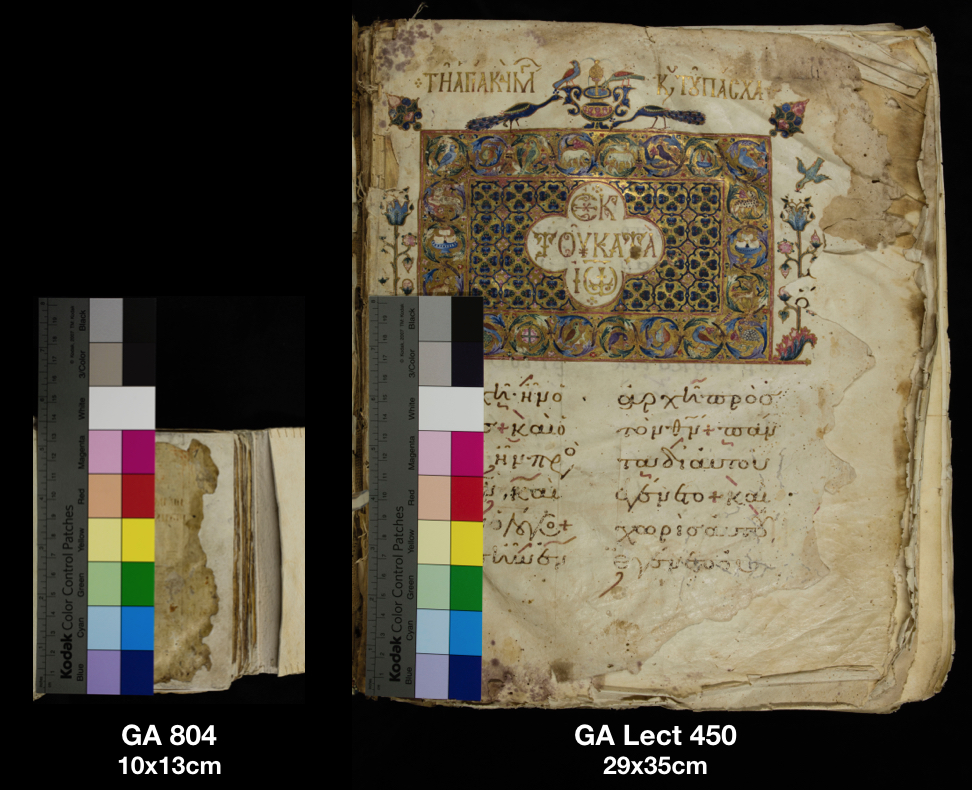 The scribe's handwriting is another clue. GA 804 was copied with petite handwriting indicating it was probably a personal New Testament that was read privately rather than for public services like the lectionary in the above example. A codex this small designed for personal use would have been ideal for travel.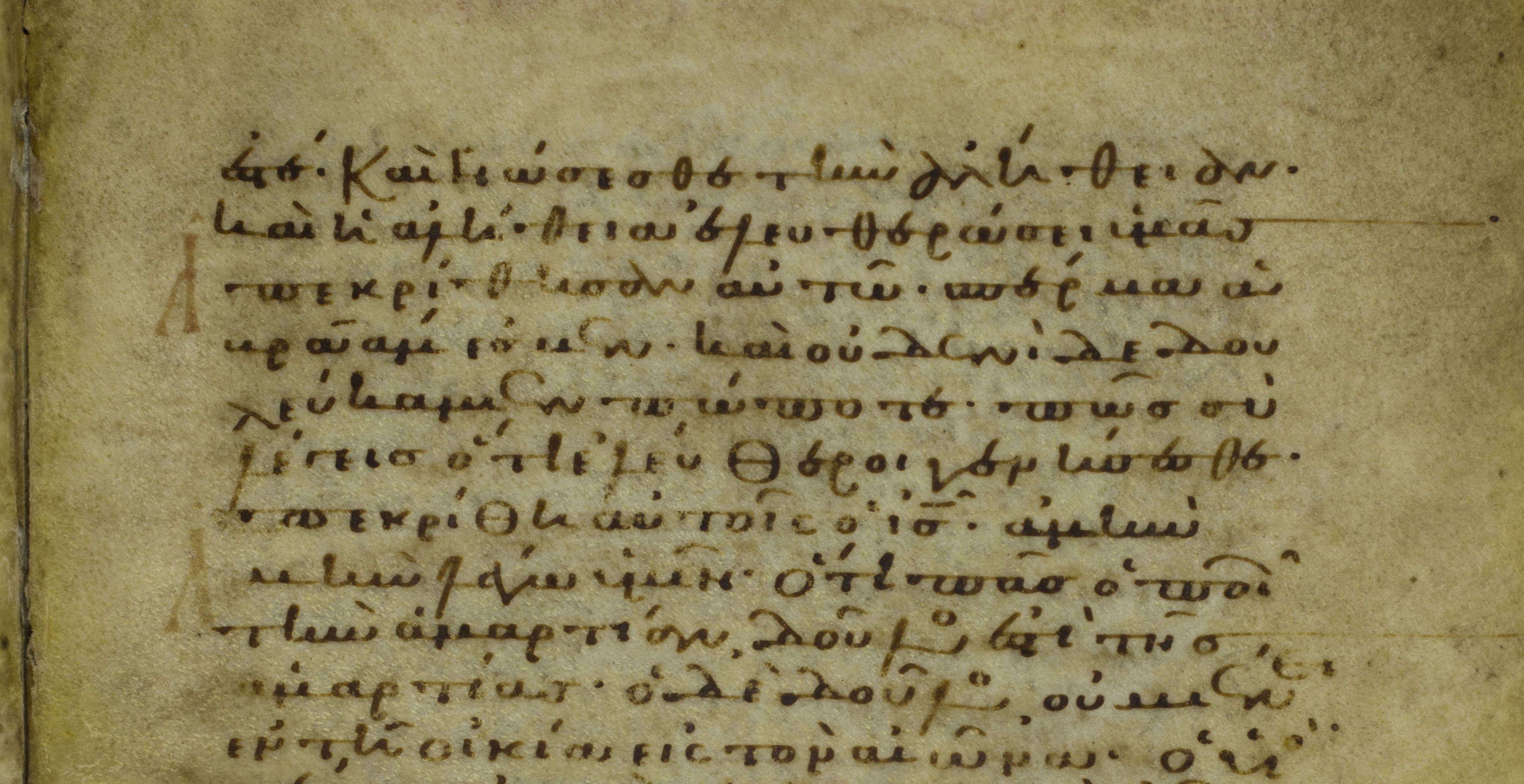 Taken together, these traits indicate GA 804 is a 1,000 year-old traveler's Bible. The liturgical and public reading of Scripture was vital in the ancient and medieval church; but, as GA 804 indicates, so was personal and reflective reading. We can scarcely imagine just how arduous and unpredictable journeys were back then. Travelers wanted to have the Gospels ready at hand as they encountered challenges and difficulties on their path to new places and cultures. The words of Christ provided guidance along the way.
Every manuscript has a story to tell. We are grateful for the privilege to digitize GA 804 and share part of its story with you. The exceptional staff at the Library of the Hellenic Parliament are also to be thanked for conserving this codex and collaborating with CSNTM. You can see all the images of this Greek New Testament here in our digital library.