By: Andrew J. Patton
In January, nine Greek New Testament manuscripts owned by the Library of the Hellenic Parliament in Athens, Greece were digitized by the Center for the Study of New Testament Manuscripts. The Library of the Hellenic Parliament is prominently located in the center of Athens at the Old Royal Palace which is now Greece's Parliament building. It is a historic and beautiful site.
Travelling to Athens feels like taking a long journey home. Yet, even after spending months working at museums and libraries in Athens, it is still a joyous experience to examine and digitize Greek New Testament manuscripts in such a historic city.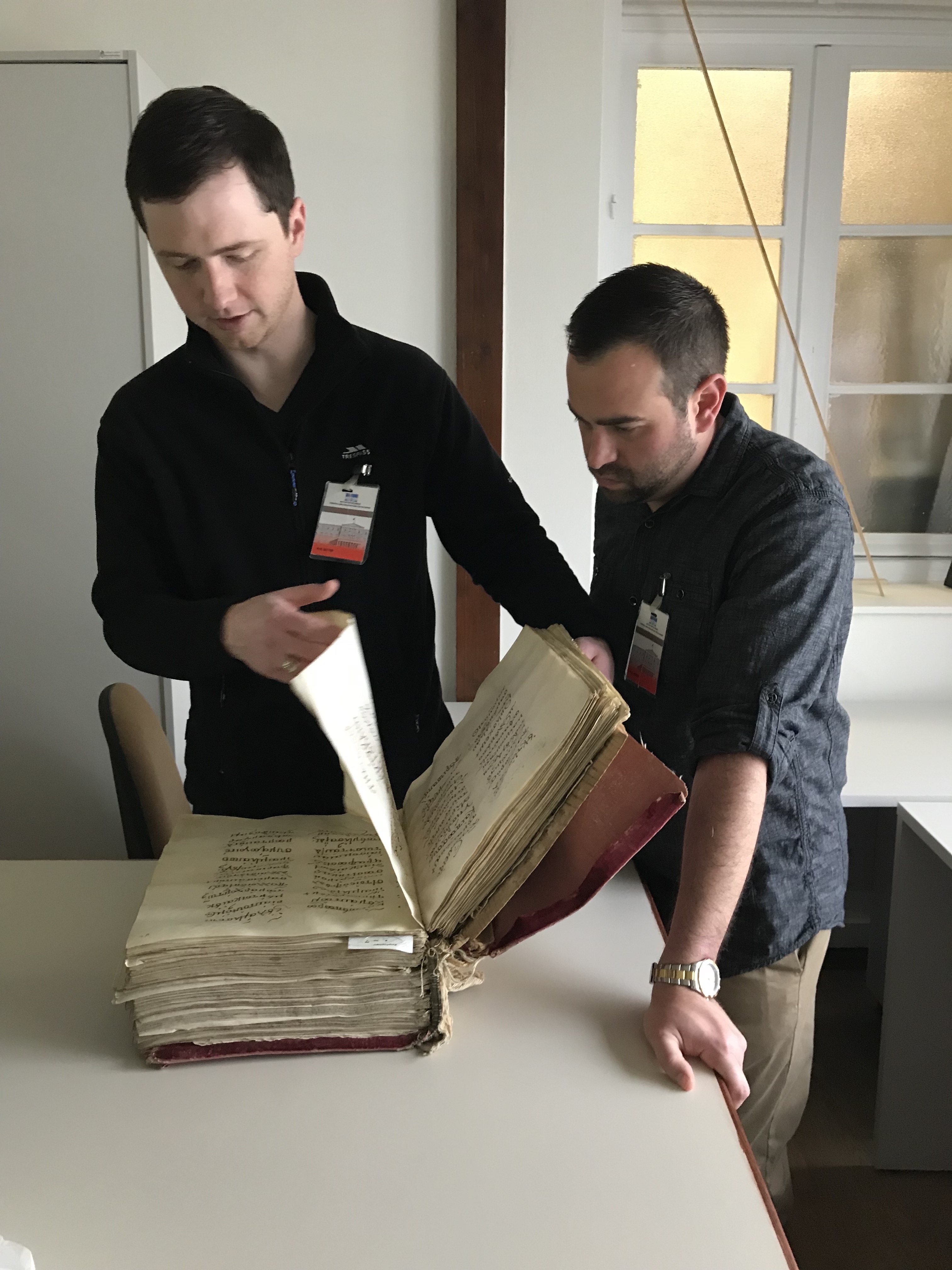 Robert D. Marcello and Jacob W. Peterson examing Lectionary 450
The concept for our digitization project at the Library of the Hellenic Parliament was developed during the summer of 2017 when Dr. Daniel B. Wallace, CSNTM's Executive Director, met Dr. Eleni Droulia, the head of the library's collection, and examined their manuscripts with Dr. Samuel Lamerson, president of Knox Seminary. This visit was instrumental for our agreement to partner with one another to digitize their nine Greek New Testament manuscripts. In December, Dr. Wallace returned to prepare the manuscripts for digitization. In only three days he combed through more than 4,000 leaves and recorded essential information for the digitization team and metadata that will be useful for future studies on the manuscripts.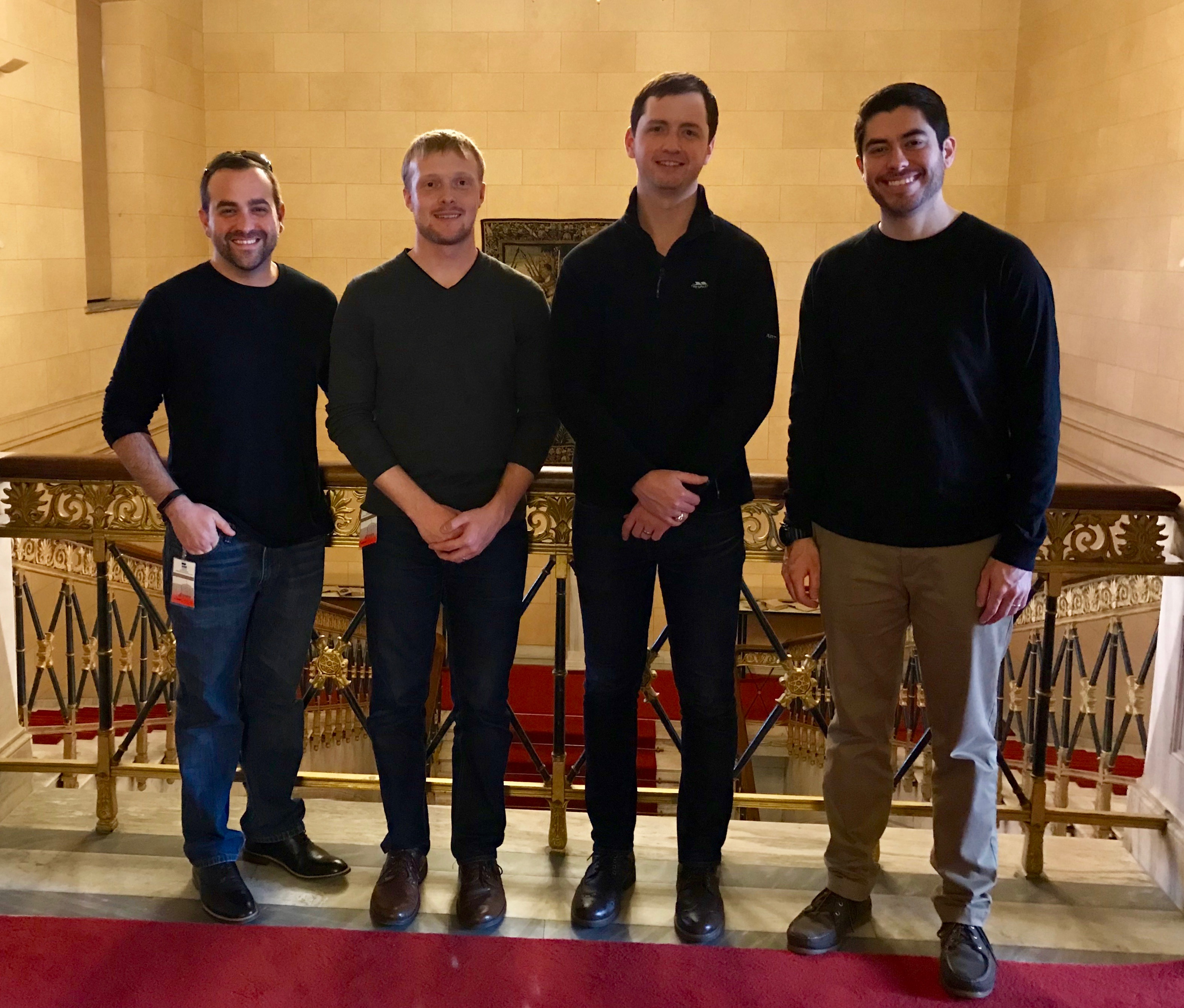 Robert D. Marcello, Andrew J. Patton, Jacob W. Peterson, and Andrew K. Bobo
At the beginning of January, our digitization team traveled to Athens, led by CSNTM's Director of Operations and Research, Robert D. Marcello. The other team members were Jacob W. Peterson, Andrew K. Bobo, and Andrew J. Patton. The team worked with precision and efficiency, completing the digitization work ahead of schedule. One of the most interesting features about Parliament's collection was the wide range of sizes for their manuscripts. Lectionary 450 is an enormous manuscript: 35 cm by 28 cm, written in gigantic script on 478 leaves! On the other hand, codex 804 was especially small; its height was that of an iPhone with petite handwriting on 262 leaves.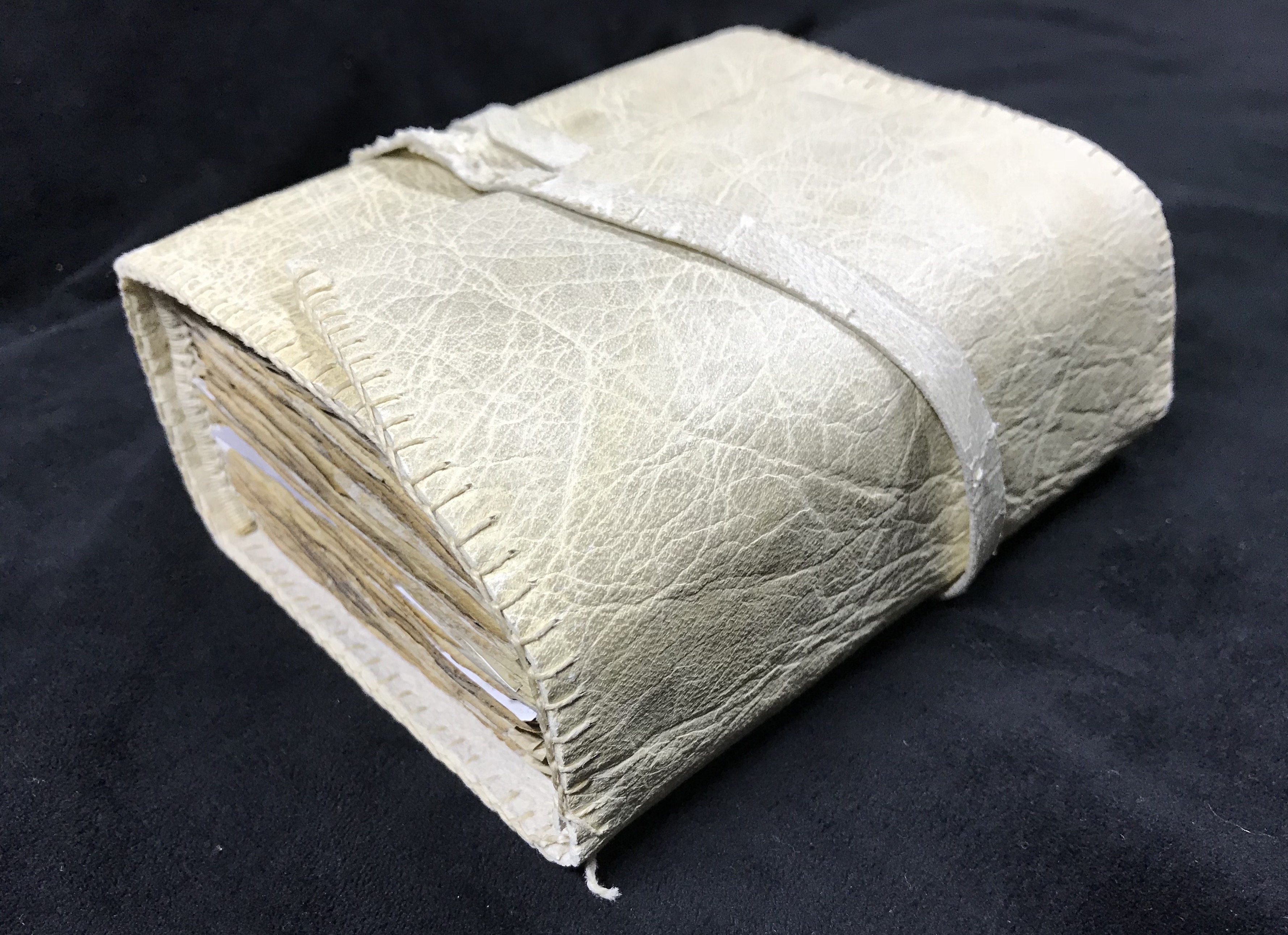 GA 804
We greatly enjoyed working with the staff at the Library of the Hellenic Parliament, including Dr. Eleni Droulia and Mrs. Angela Karapanou. They were gracious hosts for us. Their leadership expedited our digitization project and has contributed to the excellent condition of the library's special collections. We were honored to collaborate with their staff and look forward to continued partnership.
Two other groups of people deserve special thanks for their invaluable support. First, we are grateful for our partners at the National Library of Greece who introduced CSNTM to the staff at the Parliamentary Library and collaborated on the project with us. Second, CSNTM could not have completed this project apart from the generosity of you, our donors, who believe as we do that it is critical to preserve handwritten copies of the Greek New Testament and share the images freely online. Thank you for contributing to this digitization project!
We would also ask you to show your support for the Parliament Library by liking them on Facebook here.
The following manuscripts were digitized and will be available to study online in the coming months.
GA 804
GA 805
GA 806
GA 807
GA 2049
GA 2096
GA 2097
GA 2313
GA l450