The Center for the Study of New Testament Manuscripts (CSNTM) is excited to announce that during a brief trip to Athens in March they were able to digitize an astounding 16,000 images of pages in 29 manuscripts! CSNTM's Research Manager, Robert Marcello, led the seven-person team, including David and Marcy Long, Jacob Peterson, Stratton Ladewig, Andrew Patton, and David Smith. Under his leadership, they made significant headway on the project at the National Library of Greece. Every team member worked hard to digitally preserve these manuscripts with precision while caring for the codices themselves.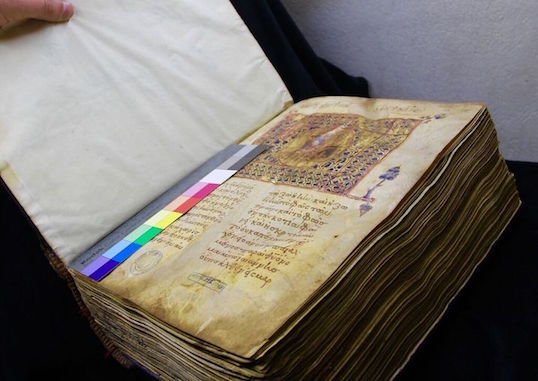 While the teams were working, CSNTM's Executive Director, Dr. Daniel B. Wallace, and current intern, Kyle Fischer, discovered three New Testament manuscripts that were unknown to western scholars. Dr. Wallace wrote about these unique discoveries in Athens Update (Part 1). They also prepared scores of manuscripts for digitization. These discoveries were digitized and will be added to CSNTM's library in the coming months.
Altogether, the Center's teams have digitized 69% of the New Testament manuscripts in the National Library's collection. They look forward to finishing the project later in 2016. It will take many committed people to fully fund the digitization of this important collection. If you would like to partner with CSNTM to complete this project at the National Library of Greece, visit http://www.csntm.org/donate.